Today's Message: For the strength of the Pack is the Wolf, & the strength of the Wolf is the Pack.
Do you want a smart fridge for your home which works robotically for you?  They have display on the door, transparent door and more cool features.
Internet refrigerators
In this world every person updating to internet, in the same way refrigerator is designed to make human activities simpler by connecting with the internet while they are doing work in the kitchen. Smart refrigerator is also known as Internet refrigerator that it is internally programmed to sense the food storage we kept inside the refrigerator and also it track by using RFID scan. The equipment is used to find whenever the food should be replenished inside the refrigerator. The list of smart refrigerator is given below.
• Electrolux Screen Fridge – It is double door refrigerator. It provided with touch screen facility to keep track the fridge function in the right side door. It has lot of features such as micro phone, video camera and a speaker to intimate video message to family members. It also connect with internet to send emails and also aside you can order and buy foods.
• LG Digital DIOS – It is double door refrigerator. It is also known asR-S73CT. It has a TV functionality in its screen, LAN port and also it has LCD information which features of video messaging, data memo, electronic pen and also all the information provide in the right side door. It has plumbing water dispenser in the left side door. For example temperature and freshness of food.
• LG GR-D267DTU – Fridge and Freezer contents user memory. It has CCD camera, microphone, Built in MP3 player and TV tuner, electrical calendar or scheduler, Video mail, Onscreen text message service, Food nutritional fact file, Stereo speaker.
• LG Smart ThinQ LFX31995ST –It has door alarm,child lock, smart diagnosis, auto closing door hinge, LED temperature Controls, Dual evaporator, Fresh air filter, smart cooling pulse system, water filter system. It is three door french door refrigerator that has stainless steel look with 8 inch wifi LCD screen.
• Samsung RH2777AT HomePADsmart Refrigerator – It is designed to communicate wireless only within the home. If we take it to outside of the home the wireless communication between the station and the home pad will fail. It has a control panel that have some button to control freezer temperature, fridge temperature, power freeze, power cool, ice type button and child lock. The digital panel in it shows the power freeze, power cool, deodorizer, green light indicator, cubed ice, crushed ice and ice off. It has ice and cold water dispenser.you can choose soft freeze, chill and cool. The HomePADsmart powers off after 20 minutes in screensaver mode. The remaining power of battery is displayed on the screen.
• Samsung RF22K9581SR Family Hub Refrigerator – It has four doors with triple cooling system, efficient lead light control, wine rack, fingerprint proof coating with stainless steel exterior. In the right hand side top door we have control panel.In that we also add photo album, memo, time tracker, radio with build in speaker,smart television screening, 21.5 touch screen and stick board. The design of the refrigerator is very classic and attractive.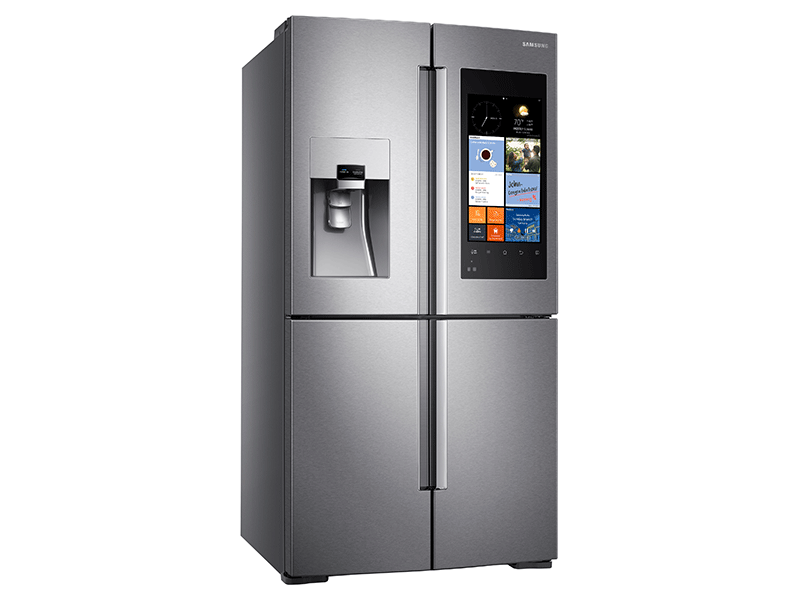 • Samsung Zipel e-Diary –  It has 10 inch screen display.The screen shows the present condition of whether and it has wifi connectivity. The model comes with two pattern one is the luxurious black and another is creamy white both gives very genuine look to the smart fridge world.It gives special look to your kitchen with its intelligent work.In the same way you can do all your smart activities here.It can able to store more than 500 kinds of food in it.
• Whirlpool GD5VVAXT Refrigerator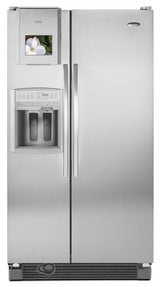 In this computerized world this refrigerator gives all the smart activities side by side with your  kitchen activities. The refrigerator is designed with two doors. In the left side door it has its panel that provide digital photo frame or iPod dock. The central park connection in it is easily detachable. The laptop can be attached and it has iPod speaker and also it provide wifi connectivity.To track the house hold activities you can use handwriting device on the screen to schedule it and you can clear it easily.It also provide activities such as sending message, email and provide shopping software to purchase the shopping list online in mutual way. Whirlpool takes every care in designing the refrigerator to give new look to it. So it provide with tie up to some software companies.
Enjoy the refrigerator which suits to your kitchen and your activities and enjoy its each and every feature with big smile.
------